DVDs from TCM Shop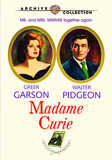 Madame Curie The famed female scientist... MORE&nbsp> $17.56 Regularly $21.99 Buy Now
NOTES
Voice-over narration spoken by popular novelist James Hilton, who made his screen debut in the picture, is heard intermittently throughout the film. Eve Curie, who wrote the book on which the film is based, was Marie and Pierre Curie's youngest daughter. As depicted in the film, the Curies achieved renown for their revolutionary work in the study of radioactivity and their discovery of the elements radium and polonium. Marie, who was born Maria Sklodowska in 1867 in Warsaw, Poland, earned degrees in mathematics and physics at the Sorbonne in Paris in 1893 and 1894. She met Pierre, who, along with his brother Jacques, had pioneered the field of electromagnetism and was the head of the laboratory at the Ecole de Physique et de Chimie Industrielle, in the spring of 1894 and married him a year later. Marie then began her study of radioactive pitchblende, which had been discovered in 1896 by Henri Becquerel, using an electrometer built by Pierre and Jacques. Pierre joined his wife's work soon after, and a year later, they discovered two new radiating elements, which they named polonium (after Poland) and radium. In 1903, after years of effort isolating and studying the elements, Marie was awarded her doctorate and, with Pierre and Becquerel, won the Nobel Prize for physics for their joint discovery of radioactivity. Pierre was appointed professor at the Sorbonne in 1904, and Marie worked as his assistant until his traffic accident death in 1906. As described in Eve Curie's biography, Marie was deeply affected by Pierre's death, but eventually accepted his professorship and became the first woman lecturer at the Sorbonne. In 1908, she was appointed professor, and in 1911, she received a second Nobel Prize in chemistry for her work on the isolation of pure radium. During World War I, Marie turned her attention to the development of x-rays, and in 1918, became the director of the Radium Institute. Her elder daughter Irene worked at the Institute with her husband, Frederic Joliot. In her later years, Marie devoted herself to the study of the chemistry of radioactive materials and their medical applications. She died in 1934 of leukemia, which many assume she contracted as a result of her experiments.
In August 1938, before the English translation of Eve Curie's book had been published, Motion Picture Daily announced Greta Garbo as the film's star and Aldous Huxley as the screenwriter. Huxley speculated in a November 1938 New York Times article that he was hired because, as an essayist and the son and brother of scientists, he had the necessary scientific background and temperament to write the picture. In April 1939, however, the studio signed Jacques Thery to write the script, and in December 1940, the project was shelved. In a March 1940 New York Times article, Huxley was quoted as saying that his screenplay "disappeared without trace," because, he presumed, "the older Curie daughter objected to it, fearing that her father, who was quite as great a scientist as her mother, would be slighted in favor of Greta Garbo." A late July 1942 Hollywood Reporter news item, however, noted that M-G-M was reconsidering Huxley's script as a vehicle for Katharine Hepburn. Two weeks later, Ann Harding was announced as the film's star. The exact contributions of Huxley and Thery to the completed film, if any, have not been determined.
Madame Curie marked the third film in which Greer Garson was paired with Walter Pidgeon. Their prior film, M-G-M's Mrs. Miniver, was an enormous critical and box office success, and publicity for Madame Curie exploited the connection. One advertisement for the film read: "Mr. & Mrs. Miniver Together Again in Another Screen Hit!" In addition to Garson and Pidgeon, producer Sidney Franklin, cameraman Joseph Ruttenberg and actors Dame May Whitty and Henry Travers also worked on both films. Albert Lewin began as director of Madame Curie, but was replaced by Mervyn LeRoy two weeks into production because of differences he and executive producer Edward J. Mannix had over the story. Alan Baxter, Patric Knowles and John Craven tested for roles in the film, but they did not appear in the completed film. Hollywood Reporter news items add Vladimir Rachevsky, and Eldon and Elton Burkett as cast members, but their participation in the final film has not been confirmed. According to M-G-M publicity material found at the AMPAS Library, photographs provided by Eve Curie served as guides for the film's makeup, costuming and sets. Some scientific equipment was borrowed from various Los Angeles universities, but most, including a copy of the Curie magnetic balance, was built in the studio's shop. Although an April 1943 M-G-M publicity item announced that Garson was to sing two songs in Latin and several songs in French, she did not perform any songs in the film.
According to a Hollywood Reporter news item, Frank Whitbeck prepared two special trailers, in addition to the regular advance trailers, to play in ten Los Angeles theaters for two weeks prior to the Hollywood premiere of the film. The premiere at Grauman's Chinese Theatre was a benefit for the Volunteer Army Canteen Service. Madame Curie was nominated for 1943 Academy Awards in the following categories: Best Picture; Best Actress (Greer Garson); Best Actor (Walter Pidgeon); Best Art Direction (black and white); Best Sound Recording; Best Scoring of Dramatic or Comedy Picture; and Best Cinematography (black and white). Garson and Pidgeon won Australia's Walling Award for their performances in the picture. Garson was nominated for a 1944 Janeway Medal, a prize awarded annually by the American Radium Society, for her work on the film and was featured on the December 20, 1943 cover of Time in connection with the picture. In addition to receiving praise from scientists, the film was selected as a "best film" by Scholastic Magazine and Parents magazine, according to Hollywood Reporter news items. Hollywood Reporter also notes that Victory OWI Magazine ran a two-page photo spread about the production, marking the first time that a government-sponsored publication had publicized a commercial film.
On September 16, 1946, Lux Radio Theatre broadcast a radio adaptation of the film, starring Garson and Pidgeon, and on January 31, 1954, the Hallmark Playhouse broadcast another version. In addition to various documentary shorts, Marie Curie was the subject of a BBC television production, starring Jane Lapotaire and Nigel Hawthorne and directed by John Glenister. The program, titled Marie Curie, was broadcast on the PBS network in five hour-long installments, beginning on August 31, 1977.