DVDs from TCM Shop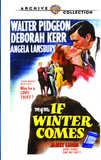 If Winter Comes Scandal results when a... MORE&nbsp> $14.95 Regularly $17.99 Buy Now
NOTES
DVDs from TCM Shop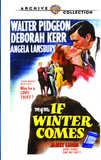 If Winter Comes Scandal results when a... MORE&nbsp> $14.95
Regularly $17.99 buy now
The novel on which this film is based was published serially in Everybody's Magazine between December 1920 and July 1921. The title of the film was taken from a line of the Percy Bysshe Shelley poem "Ode to the West:" "If winter comes, can spring be far behind." Hutchinson's novel was also the basis of the 1923 Fox film If Winter Comes, directed by Harry Millarde and starring Percy Marmont and Ann Forest (see AFI Catalog of Feature Films, 1921-30; F2.2666) and for the play of the same name, which opened in New York on April 2, 1923, starring Mabel Terry-Lewis and Cyril Maude. While Hutchinson's novel, as well as the stage and Fox film versions of his story were set around World War I, the period was changed to World War II for this film.
According to contemporary news items in Hollywood Reporter and Los Angeles Times, David O. Selznick purchased the film rights to Hutchinson's story in 1939, at which time Joan Fontaine and Viven Leigh were being considered for the feminine leads, and either Leslie Howard or Laurence Olivier for the male lead. John Cromwell was announced as a possible director. Although Selznick set a tentative start date of March 1, 1940 for the film, he later abandoned the project and sold the rights to Alexander Korda. An October 1942 Hollywood Reporter news item noted that Sheridan Gibney was set to work on the script, but the extent of his contribution to the final film has not been determined. Hollywood Reporter news items in 1943 noted that Robert Donat was set to star and that the picture was to be filmed at M-G-M's London studios.
June 1947 Hollywood Reporter news items indicate that some location shooting took place in Florida, at Winter Haven, which is near Sarasota, and Key Biscayne, and at site forty miles north of Malibu, CA. A July 1947 Hollywood Reporter article noted that the picture set "a new lensing standard" in cameraman George Folsey's use of reflected light to light the actors and settings. The result, according to the article, was a more "life-like" look to the actors, and greater freedom for the actors to move about the set. A December 1947 news item reported that If Winter Comes was the first picture to be released in its entirety on non-flammable film. The film used was Eastman safety base positive, with which M-G-M had been experimenting for a year. The tests showed that film was not only non-flammable, but was more durable than its nitrate counterpart.