DVDs from TCM Shop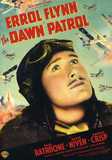 The Dawn Patrol A flight commander in France... MORE&nbsp> $14.96 Regularly $19.98 Buy Now
Home Video Reviews
WWI movies tend to be strongly antiwar, with undercurrents of defeat running through them, but
The Dawn Patrol
(1938) tries to have it both ways. It serves up a fun adventure yarn while also asking the audience to contemplate the seriousness of warfare and the wrenching human toll it takes. To be sure, lots of combat movies offer thrilling scenes as part of an overall antiwar theme, but
The Dawn Patrol
is something an odd movie to have come out in 1938. Very soon afterwards, Hollywood would start releasing war movies designed to get Americans psychologically ready and enthusiastic for the oncoming WWII - films like
Submarine Patrol
(1938),
The Fighting 69th
(1940) and
Sergeant York
(1941).
The Dawn Patrol
is more of a throwback to a different way of fighting and looking at war, where flyers are elite individuals rather than members of a fighting group.
The Dawn Patrol
, in fact, had been made before, in 1930, directed by Howard Hawks and starring Richard Barthelmess and Douglas Fairbanks, Jr. That film became instantly famous for its amazing aerial sequences, which Warner Bros. reused for the remake as a way to keep production costs down.
The remake stars Errol Flynn and David Niven as the lead pilots of a Royal Flying Corps squadron in France who fly daily sorties across German lines and take to the bottle each night. Despite their confidence and enjoyment of flying, they are feeling increasingly bitter about the losses piling up on each mission. Their commanding officer, Basil Rathbone, detests having to send men up on de facto suicide misisons in planes ("crates") which aren't good enough. "You know what this place is?" he asks his lieutenant bitterly. "A slaughterhouse. And I'm the butcher!" Flynn hates Rathbone for continually ordering dangerous missions with new recruits every day, but when Rathbone is reassigned and Flynn inherits the job, he realizes that Rathbone's orders came from even further up the chain of command and there's not much he can do about them. Inevitably, new strains now emerge in his friendship with Niven, culminating in one of them undertaking an extraordinarily dangerous bombing mission deep into Germany.
Basically,
The Dawn Patrol
is about the comradeship of men (there are no women in the picture), and even between enemies. A captured German flyer who shot down one of their own is welcomed onto the British base with respect and civility, in an example of yet another device which fits in perfectly with WWI movies but which would soon have no place in WWII films.
The aerial combat scenes remain quite exciting. One spectacular sequence finds Flynn and Niven disobeying orders by taking to the air, attacking a German base and narrowly escaping when one gets shot down and must hold onto the wing of the other plane to escape. (And there are still further complications ahead.) There's also some interplay with what is meant to be the Red Baron, though in the film he's called "von Richter" instead of "von Richthofen." The cast does very well, with stiff upper lips maintained all around and Flynn easily projecting the good looks and nobility that made him such a star.
The Dawn Patrol
, which has been issued with excellent picture and audio, is included in Warner Home Video's DVD 5-pack entitled
Errol Flynn: Signature Collection Volume 2
. It's also available separately. Extras on this disc include two short subjects,
The Prisoner of Swing
and
Romance Road
, the cartoon
What Price Porky?
, a newsreel and trailers. If one chooses, they can be viewed all in one click via the "Warner Night at the Movies" option.
Other titles in the set are
The Charge of the Light Brigade
(1936),
Dive Bomber
(1941),
Gentleman Jim
(1942) and
Adventures of Don Juan
(1948). The latter comes with a commentary track featuring director Vincent Sherman (he died in June 2006), and all titles come with many extras including a new documentary featurette on the
Dive Bomber
disc and a radio adaptation of
Gentleman Jim
. Also worth a mention is the beautiful cover art - drawn from the films' original posters - on all the cases and the discs themselves. It's nice to be thrown back in time like this before one even opens the case.
Now if only Warner Bros. would release the original Howard Hawks version of
The Dawn Patrol
onto DVD...
For more information about
The Dawn Patrol
, visit
Warner Video
To order
The Dawn Patrol
, go to
TCM Shopping
.
by Jeremy Arnold