DVDs from TCM Shop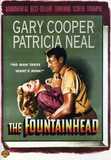 The Fountainhead An idealistic architect... MORE&nbsp> $14.95 Regularly $19.98 Buy Now
USER REVIEWS
See Detailed Ratings
Acting of Lead Performers

Acting of Supporting Cast

Director

Music Score

Title Sequence

Screenplay

Cinematography

Historical Importance

Would You Recommend?

0 Member Ratings
Rate the acting of the Lead Performers

Rate the acting of the Supporting Cast

Rate the Director

Rating of the Music Score

Rating of the Title Sequence

Screenplay

Creatively uses the camera to tell the story

Importance in Cinema history

Would you recommend for fans of this genre
Submit Ratings
Cancel
Write a Review
Read Reviews
NO REVIEWS AVAILABLE
The title has not been reviewed. Be the first to write a review by clicking here to start.
Rocky Fountain High

To be great- to be a genius- one must be original: the life is the origin of the personae, art, method, idea, etc. If one is likened to someone else- no matter how extraordinary the talent or ability- that one is doomed as a variant replica. 100% brain usage is an anointing from God or a bribe from Satan depending on the resultant fruit that sticks for all time. The one who is the origin will have his head no matter what unless his time is up. This story/movie takes the viewer through this situation in a basic & attractive way.

Philosophical Thumping

Right from the start instead of a movie The Fountainhead is giving us a sermon on the glories of self-centeredness. The studio should have insisted that someone else write the screenplay and saved Ayn Rand's philosophy for Gary Cooper's courtroom speech near the end. Her screen writing was strictly on the junior high level. When we aren't getting a lecture the dialogue is clumsy and the symbolism crude. Despite fine cinematography, good music score and some chemistry between Cooper and Patricia Neal this so-called film is nothing more than an excuse for the thumping of a narcissistic philosophy.

A Victory of Philosophy In An Impractical Way

I am not a Lawyer; and, I do not normally expound views that I feel only Lawyers might hold. Rand is wonderful in the worlds of her novels and her philosophical positions are both enlightening, interesting and reassuring. She argues brilliantly for the advancement of individualism and creativity in a world that goes to great lengths to stifle it. Usually, the forces against creativity are jealousy and fear of the creative individual made the victim of antagonism and ways of impeding their success. Established citizens do not want the introduction of new people or new ideas the success of which may render them obsolete or to positions of lesser importance than those they enjoy in their worlds of status quo in whatever ways they got to them. However, as beautiful is the world that Rand would see evolve if creative forces are given full reign through the supremacy of individualism, the extreme measures taken by one champion of his individualism are unlikely to find success in the real world. We are accustomed to extreme events in films that make points in ways that are very improbable in the actual world. Still, putting lives at risk while demolishing property on a large scale does not seem to be justifiable by a speech on individualism and the individual's right to see his ideas brought to fruition at any cost. So, The Fountainhead is a fantasy and does require abandonment of one's sense of reality despite the beauty of its message. So long as we keep this in mind, it succeeds as a cinematic metaphor for what Rand believes are the conditions necessary for a society worth living in.

To Thine Own Self Be True

A slightly off-key film with moments that shine. Gary Cooper is an architect with a precise vision for his work. It's so precise that he refuses to compromise in any way. This leads him off course, of course, because no one wants to hire an architect who protects his designs like an artist. The strange thing is that he's not bothered one bit by the lack of work until he one day realizes he has no work. He ends up doing manual labor until he's called out of the gravel pit by Patricia Neal who sees his potential as a paramour. It gets tedious at times, with the architectural models and meetings, but Gary stays true to his vision and refuses to be put in a box that meets the needs of greedy builders who could care less about truth in design.

It has its moments . . .

I first saw this film on television in December 1965, and I found it both a rushed and an overwrought version of Ayn Rand's novel. That's still my basic view of the film, but it has its moments. I think I would like it best if I could watch the film while listening to the music track only. The movie is visually striking and Max Steiner's music score is a complement to the visuals. Listening to the dialogue as spoken by the glittering cast--Gary Cooper, Patricia Neal, and Raymond Massey, among numerous supporting players--is entertaining in places, although the characters' deeper motivations seem to elude the cast. This is partly due to the script, which condenses the novel in ways that make the hero's and heroine's struggles hard to relate to or sympathize with. I do believe the attraction between Cooper and Neal, though!

Excellent

The Fountainhead is a reflection of what is going on in the world today. It is reflective of the acceptance of mediocracy in the world of politics, entertainment, education, and parental expectations. This movie should be on the list of required college and university's syllabi resources.

The G.O.A.T.

Always and forever

The Fountainhead

Read the book that I found hard to take seriously...really!?! So I was dying to see the movie, such a cast. Visually it was beautiful, music was great but soooo melodramatic I literally laughed out loud. Just like the book I'm thinking...is this for real? Do people really think this way? But glad I watched it and loved the view at the end when she's taking the elevator to see her husband.

Absurd and hilarious... but well-made

The first time I saw this film I hadn't heard of Ayn Rand or her loony followers. Even then the content came across as pretentious and comical... but boy did it look great! Despite the ridiculous dogma being spouted the actors are great fun to watch... without them, and the cinematography, this would be an unwatchable mess.

The Fountainhead

Overall-3 1/2 out of 5Lead Performers-4/5Supporting Cast-3/5Director-4/5Screenplay-3/5Cinematography-4/5Importance-2/5Recommendation for fans of the genre-3/5

Not the best

I agree the cinematography is wonderful in this movie, but I was disappointed in the screenplay and direction. I feel they make it too much of a soap opera for such a high powered cast. Sure it's political, but so was Lord of the Flies, and I don't hear anyone badmouthing the film versions of that story. If I ever get a parrot I'll be sure to name it Nick. Then there'll be at least two.

Truly Weird Film

I helped restore this film for DVD release, working as a sound editor. As such, I had to watch it over and over for a whole week as I reduced the noise and remixed the tracks. The cinematography is breathtaking, and the music is good. Everything else is awful. The script is so full of speechifying, no actor could possibly overcome it. It's similar to the declaiming of bad Bible movies. That Rand actually thought it was good is proof to me that she didn't understand movies. I like the novel, but this is truly awful.

Don't Blame Coop

Or any of the other actors. It's remarkable anyone survives the script, which is constant speechifying to stake out philosophical points of view. It's really an example of Surrealism, dramatically speaking. What does survive is the sexual heat generated by Coop and Patricia Neal.It is a unique film and well worth seeing.

Great Melodrama

The whole story is way over the top. Poor Gary Cooper surrounded by great actors is woefully bad. Even if you don't quite agree with the author's message, it's all presented in great style. It would be so much better if someone else had played Howard Roark, but otherwise great ensemble, great photography.

A must see film.

Engaging, provoking, intelligent courageous story line.A movie with performances and cinematography that delivers.

Unintentionally hilarious

Most people realized Rand was a fool once they got past those really keen dorm bull sessions sophomore year. The remainder are today's Republicans. Why have they not all 'gone Galt' as they've been 'threatening', and withhold their invaluable talents from the world? If only. But I digress. This movie is hysterical beyond the absurd straw-man political nonsense the Randian hero spouts. My favorite part? When Pat Neal, expecting big strong Coop to visit and 'fix her fireplace,' gets short old dumpy Italian guy! And lashes out at him! Classic. And there are so many others. Ayn Rand. Please.

the fountainhead

Few films are more representative of the clash now occurring in America politics.This most powerful story is one of the best of all films to come out of Hollywood. Many including myself consider this Gary Cooper's best film. The best synopsis of this film is the final presentation architect O'Rourke (Cooper) makes to the jury at the end of the film, concerning an individuals right to work for himself, enjoy his own rewards without being made to bend a knee and go along with the "great majority". The individualist as portrayed by Gary Cooper is what made America great!What a pity it can't be brought of retirement for just such a timely situation in American history.

Kay Francis

I really miss last months Kay Francis movies. Her steller looks are incomparable.

Just insane - and fascinating!

It's all they say,both pro and con! But despite Ayn Rand's cranky nit-picking over the screenplay(true to her nature,bless her), this was a brave,risky effort.The sheer length of Gary Cooper's courtroom speech was unheard of,for a Hollywood production.Make up your own mind,but all hail Patricia Neal.

Great Ayn Rand movie

This movie is one of teh very few that was ever made that is true to the book that inspired it.While the script is very stilted in it's words, it brings across Rand's message perfectly and thus is a good movie to watch. The cinematography is good though there are several instances where you can tell it's completely fake.

Trite Trash.

One of the worst movies. Right up there with 'Clan of the Cave Bear'. Cooper, whose talents are over-rated at the best of times, is really, really, terrible, and the rest of the cast not much better.A waste of time, & a travesty of conservatism & Rand.

terrible scenario

Bruno Masquillier

4/10/08

the scenario is truly terrible: the dialogues are so didactic, stiff and heavy, the characters mostly lack depth. The photography is very good, though, dramatic and stylish.

What Rhetoric!!!!!

Having seen this film for the very first time, my first and fresh reaction was that this should be required reading for philosophy and psychology majors. Ayn Rand's literary talent is pure, timeless genius. The casting was impeccable as each "molded" the very character's essence they portrayed. The chemistry spark brought to the movie by actress, Patricia Neal, was electrifying, mesmerizing, and energizing in a movie dominated by strong, complex men characters and the heavy odds facing them.

Outstanding in every way.

I've been watching this movie for over fifty years and never tire of it. I liked the movie so much that I bought the book. That made the movie even better. Although a lot of material had to be left out of the movie, Miss Rand's screenplay maintains all the important elements from her novel. The cast choices are outstanding with special mention for Robert Douglas as Ellsworth Toohey. I think this is Max Steiner's best score, it certainly is my favorite.

Great Movie-Greater Book

TCM's Robert Osborne's description of this classic misses the mark entirely. This is not a movie about Architects or Architecture; rather, it is a movie about the individual vs. the collective--in political terms: capitalism vs. socialism. This was Rand's intent with the novel. I can't think of books more analyzed (except perhaps "Das Kapital") than the "Fountainhead" and "Atlas Shrugged" as political statements. Fortunately, 9 out of ten of the online reviews have been accurate.

To thine own self be true

After reading the Fountainhead I waited so long to finally see this movie. The film held the integrity of Ayn Rands novel. Roark's speach in the courtroom was invigorating, reminding each of us 'to thine own self be true'.

Passionate

I think that this movie unveiled what goes on in businesses when you don't play the game, such as politics. Gary Cooper showed me why Patricia Neal fell for him. He showed a side of passion that I didn't realize that he posessed.

Too cold and dry.

The entire film seems unclear as to it's purpose. The script is dull and cliched. The dialogue is in one voice. The performances are unconvincing and cold.

A Truly Great Movie

I loved this movie immensely-especially the ideas it conveys.I highly recommend the movie, the book, and all of Ayn Rand's work-especially Atlas Shrugged.

READ THE EPIC NOVEL!!

The movie is great, but I highly recommend the fabulous novel by the inimitable Ayn Rand. It is a long read, and I mean looong, but the characters are so well defined and the story is so well told that it is worth the journey. truly one of the great American novels.

The Fountainhead

This movie is a hoot. Patricia Neal is way over the top. But great fun to watch. Gary Cooper's Howard Roark is a man that you can agree with wholeheartedly and in the next instance disagree vehemently. Raymond Massey gives a wonderful performance.

The Fountainhead

I was impressed by the testimony of the accused before his verdict was rendered. Great movie to watch.
*We protect your personal infortmation and will not provide it to anyone without your consent. For a complete explanation, please refer to TCM's Privacy Policy. By submitting your contribution, you agree to TCM's Terms of Use.