DVDs from TCM Shop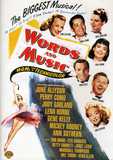 Words and Music Songwriters Richard Rodgers... MORE&nbsp> $15.79 Regularly $19.98 Buy Now
NOTES
The working title of this film was The Lives of Rodgers and Hart. The film opens with a voice-over introduction spoken by Tom Drake as "Richard Rodgers" and closes with a eulogy of Lorenz Milton Hart delivered by Gene Kelly. The first fifteen cast credits listed above reflect the order in which the credits appear at the end of the film. Kelly, Allyson, Garland, Drake and the other actors who appear as themselves are billed only in the credits at the beginning of the film and are all listed before Mickey Rooney, who played Hart.
Rodgers, who was born in New York City on June 28, 1902 and died in 1979, wrote approximately five hundred songs in collaboration with lyricist Hart (1895-1943). Broadway audiences heard their first Rodgers and Hart song in the 1919 musical A Lonely Romeo. Following that show, Rodgers and Hart went on to create songs for twenty-nine Broadway musicals, culminating with By Jupiter, which opened in 1942. Rodgers and Hart also created songs for eight motion pictures, including the 1931 Warner Bros. film The Hot Heiress, and the 1933 Lewis Milestone picture Hallelujah, I'm a Bum. They left Hollywood in 1934, after their contract with M-G-M expired and after Hart completed work on the film The Merry Widow. Some of Rodger and Hart's stage musicals were adapted to the screen in the 1930s, including On Your Toes in 1939, and The Boys from Syracuse in 1940. Other film adaptations of Rodgers and Hart musicals include the 1957 Columbia film Pal Joey and the 1962 M-G-M film Jumbo. Several Rodgers and Hart songs were introduced in motion pictures, including "You Are Too Beautiful," "It's Easy to Remember" and "Lover."
Modern biographical sources indicate that Hart's homosexuality was common knowledge during his lifetime, yet Words and Music not only made no reference to Hart's private life but fabricated his romantic attachment to "Peggy McNeil" as well. In mid-1942 Rodgers broke up the long partnership with Hart and teamed with lyricist Oscar Hammerstein, II. Their first collaboration was Oklahoma!, the first of a string of successful musical shows. Partly in an effort to revitalize Hart, who was struggling with poor health, depression and alcoholism, Rodgers instigated a Broadway revival of Connecticut Yankee, to which Hart contributed lyrics for six news songs. Hart's health continued to decline, however, and he died November 23, 1943, one week after the show opened. Biographical accounts of Hart's final days indicate that he attended the premiere in a drunken state and was ejected from the theater. Hart was hospitalized soon thereafter and treated for a recurring bronchial condition. He died in his hospital bed one week later, and not, as the film depicts, on the sidewalk in front of the store where he bought his elevator shoes. For more information on the music and films of Rodgers and Hart, please consult the Personal Name Indexes and the Songwriters and Composers Indexes in this and other volumes of the AFI Catalog of Feature Films.