DVDs from TCM Shop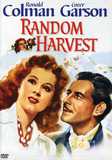 Random Harvest A woman''''... MORE&nbsp> $15.79 Regularly $19.98 Buy Now
NOTES
According to the frontispiece on James Hilton's novel Random Harvest, the title comes from a German Official Report: "bombs fell at random." According to various news items, Hilton's novel was purchased in galley form by M-G-M. Although the film generally follows the storyline of the novel, there are significant differences in the disclosing of events between the novel and the film. The events of the novel evolve through the narration of "Harrison" (a minor character in the film), who meets "Charles Rainier" on a train on Armistice Day, November 11, 1937. Kitty, a prominent character in the film, is not in the novel. The novel ends at the start of World War II, whereas the film ends in the mid-1930s.
Hollywood Reporter news items in September and October 1941 noted that director Clarence Brown was about to sail for England to film the story there, with Ronald Colman and Greer Garson. Following America's entry into World War II, a decision was made to shoot the film on the M-G-M lot in Culver City, CA, and in early 1942, Mervyn LeRoy was assigned to direct the picture. Actors Donna Reed and Edmund Gwenn were at one time cast in the film. Reed was to have played Kitty, a role taken over by Susan Peters, and Gwenn was cast as the Prime Minister, a role not in the released film. Richard Ney and Charles Ray were both mentioned in news items as being cast, but they were not in the released film. Hollywood Reporter news items also include George Broughton in the cast, but his appearance has not been confirmed. An item in Los Angeles Examiner on September 1942 noted that producer Sidney Franklin, who frequently appeared in background shots in his films, was not seen in Random Harvest, but sang with the choir that provided background music to one scene. The song, "She Is Ma Daisy," (called "She's Ma Daisy" in the onscreen credits) performed by Garson in the film, was popularized by well-known Scottish music hall star Sir Harry Lauder, whom Garson briefly imitates. Although Random Harvest was completed in July 1942, it did not have its premiere until mid-Dec. According to news items, M-G-M delayed the release of the picture to avoid competition with another very popular Garson film, Mrs. Miniver.
Random Harvest received seven Oscar nominations: Best Picture, Best Director, Best Actor (Colman), Best Supporting Actress (Peters), Art Direction, Scoring of a Dramatic or Comedy Picture, and Adapted Screenplay. Screenwriters Arthur Wimperis, George Froeschel and Claudine West did win the Oscar in that category (along with Random Harvest novelist James Hilton), but for their work on Mrs. Miniver. According to M-G-M studio records at the AMPAS Library, the picture's negative cost was $1,210,000. Its gross was $8,147,000, yielding a profit of $4,384,000 and making it one of M-G-M's biggest hits of the decade. Colman and Garson recreated their roles for a Lux Radio Theatre version of the story, broadcast on January 3, 1944. Another version, which also starred Colman and Garson, was broadcast on April 1, 1948.