DVDs from TCM Shop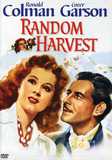 Random Harvest A woman''''... MORE&nbsp> $15.79 Regularly $19.98 Buy Now
Home Video Reviews
In
Random Harvest
(1942), MGM's top female star, Greer Garson, continued two important partnerships. It marked her second film adapted from a James Hilton novel after she made her U.S. film debut in the screen version of his
Goodbye, Mr. Chips
in 1939. And it was also the second of ten films she would make with cinematographer Joseph Ruttenberg. She was so impressed with his work on the same year's
Mrs. Miniver
- for which both won Academy Awards - that she insisted he photograph all of her subsequent films at MGM. In her opinion, he was the only cameraman on the lot who shot her to maximum effect. Throughout filming of
Random Harvest
, they shared a subtle sign language, as he coached her to lift her head to just the right angle for the camera. Clearly it worked, as Garson is at her most ravishing as the musical-hall singer who sacrifices everything for her husband.
Spurred by the success of
Goodbye, Mr. Chips
, MGM bought the rights to Hilton's
Random Harvest
in 1940, as soon as the book appeared. Initially, however, it was planned as a vehicle for Spencer Tracy. When producer Sidney Franklin and director Mervyn LeRoy learned that Ronald Colman was available, however, they jumped at the chance to sign him for the picture. His image of British sincerity was perfect for the role of a shell-shocked World War I veteran who marries while suffering from amnesia, then recovers his memory only to forget the wife he adores. With two bona fide Brits in the cast, LeRoy could boast that "the English Language was never spoken more beautifully on film."
The film - now on DVD from Warner Video - marked a major career boost for Colman, who had been in the doldrums after two early '40s films,
Lucky Partners
(1940) and
My Life with Caroline
(1941), had languished at the box office. He had just starred in the popular comedy,
The Talk of the Town
(1942), with Cary Grant and Jean Arthur, and
Random Harvest
cemented his comeback with what critics were hailing as his best performance ever.
Also scoring mightily in the film was young Susan Peters, an MGM starlet cast as the distant relative who almost marries Colman after his memory returns. Her scene when she realizes there was another woman in his life during his lost years, won raves. Sadly, she lost the chance to build on her success when a hunting accident severed her spinal cord, putting her in a wheelchair for the rest of her life. Eventually she found a few roles, including the wheelchair-bound TV sleuth
Miss Susan
(1951), in a series that aired almost two decades before Raymond Burr starred as
Ironside
.
Like most Hollywood films of the '40s,
Random Harvest
was shot entirely at the studio, where technicians turned MGM's stock English village into a facsimile for Medbury, the small town where Colman and Garson build their life together after he's first lost his memory. They also had to make some minor script changes to please the Production Code Administration, Hollywood's self-censorship organization. In particular, they had to avoid any suggestion that Colman and Garson were intimate before their marriage and eliminate his character's first wife, which would have made him a bigamist. Despite the changes, however, Hilton was so thrilled with the film that he agreed to record the opening narration himself.
Random Harvest
was a major box-office hit, bringing in $4.5 million on a $2 million investment, and breaking attendance records at the Radio City Music Hall, where it premiered. Audiences during the desperate first days of World War II were drawn to its story of the effects of war on the home front and its affirmation of the importance of love and family life. The picture scored seven Oscar® nominations, including Best Picture, Best Director, Best Actor (Colman) and Best Supporting Actress (Peters). Although it didn't win anything on Oscar night (Garson's earlier release,
Mrs. Miniver
, was the big winner that year), it remains one of the screen's most glowingly romantic films.
The Warner DVD of
Random Harvest
reflects the company's usual high standards and features a crisp black and white transfer with exceptionally clear audio. The extras, with one exception, are not really about
Random Harvest
but more reflective of the era in which the film was made. These include "Marines in the Making," a combat training film narrated by Pete Smith, and "Don't Talk," an entry from the short subject series "Crime Does Not Pay" which focuses on Nazi spies in our midst. There is also a Greer Garson trailer gallery. Easily the best extra is the Lux Radio Theatre version (audio only, of course) of
Random Harvest
with Colman and Garson repeating their film roles.
For more information about
Random Harvest
, visit
Warner Video
. To order
Random Harvest
, go to
TCM Shopping
.
by Frank Miller