DVDs from TCM Shop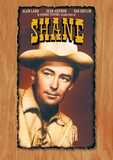 Shane A mysterious drifter helps... MORE&nbsp> $8.95 Regularly $12.98 Buy Now blu-ray
USER REVIEWS
See Detailed Ratings
Acting of Lead Performers

Acting of Supporting Cast

Director

Music Score

Title Sequence

Screenplay

Cinematography

Historical Importance

Would You Recommend?

0 Member Ratings
Rate the acting of the Lead Performers

Rate the acting of the Supporting Cast

Rate the Director

Rating of the Music Score

Rating of the Title Sequence

Screenplay

Creatively uses the camera to tell the story

Importance in Cinema history

Would you recommend for fans of this genre
Submit Ratings
Cancel
Write a Review
Read Reviews
NO REVIEWS AVAILABLE
The title has not been reviewed. Be the first to write a review by clicking here to start.
Beauty At Its Best

Every time I watch this film, I am completely taken in by the cinematography, music, acting, and screenplay of one of the best Westerns ever made. I waiver between this & "The Searchers" as the best Western ever; but either one are on my top ten lists of the finest Westerns ...along with, "Will Penny", "My Darling Clementine", "Rio Grande", "The Magnificent Seven" & "Wagon Master". Along with Mr. Alan Ladd, Mr. Ben Johnson, Mr. Elisha Cook, Jr., & Mr. Walter Jack Palance (who gives such an outstanding performance as a dark & menacing hired-gun), as well as young Mr. de Wilde whose endearing character really shines, it shows such a warmth and beauty that you rarely find in today's Westerns and those of the late 20th century. A must see film.

just three words

Read the book!

A Mind-Changing Viewing

I've seen "Shane" several times and hadn't been particularly impressed, but last night changed my mind. I noted KatzEyes comment about Emil Meyer's performance as Rufe Ryker so I decided to try viewing it again and glad that I did. I discovered this a multi-faceted film and is about more than just cattlemen vs. homesteaders. I still think "The Searchers" is the best western ever made, but now feel "Shane" deserves to be ranked high on any listing of the greatest westerns.

kevin the snark

Kevin, you've made a few decent points in some of your other reviews, But jabbing the gal for her sincere opinion based on objective fact is Kind of juvenile cheesy. The plot is classically real and the acting is great, Although period correct clothing hadn't come about yet and the studios were still doing Roy Rogers type costuming. But costuming doesn't make the movie. That is why the revenant was such a disappointment. As a historical reenactor and lifelong resident of the Yellowstone Missouri confluence and the glass bluffs where Hugh glass actually lived and worked, the poetic license played well with the city people and scored an Oscar, But it's laughable when you know the real history. that said, scoring Shane as a C means you are way off target on this one. Didn't even hit the paper, much less the bull's-eye, and mean to boot.

Shane is a Classic

Shane is the Best Cowboy Movie ever made......

Shane never wore buckskin!

This is a really good film with some outstanding performances, Emile Meyer's best, as Rufe Ryker, John Dierkes, as Morgan Ryker, Heflin, Arthur, Elisha Cook, Jr., de Wilde, Ben Johnson, and of course, Walter Jack Palance, as Wilson. Alan Ladd, is often criticized as too small in stature for the role of Shane, and that's absolutely not so. In the book by Jack Schaefer, Shane is described as small in stature, but lightening quick, unflinching, sure of himself, tough, and ruthless in a fight. It is made clear that his attire is NOT rustic buckskin, but a very fancy matched ensemble, dark suit, and leather hatband, boots, and saddle all of a matching pattern, now somewhat worn, but kept well mended, the the mark of a gentleman, perhaps a Southern gentleman, that had seen better days, but was still proud, and upright. Ladd, fit the part, but the characterization of Shane, by the director, George Stevens, perhaps forced by the standards and desires of the Hollywood image makers of the times, was NOT Schaefer's, Shane. Too bad.Had Alan Ladd, played Jack Schaefer's Shane, this very good film, would have been a GREAT film, just as Schaefer's book Shane, was a GREAT book.Still, a very good film.

Strong and straight

Like Shane's hope for the boy's future, the future of this film is bright for it is indeed strong in what it wishes to impart, and gives it to us straight. The older I get, the more I admire this film with nary a false note (save the Rocky-like duration of the otherwise well shot fist fights and Ladd being too short and slight). Everyone says this is one of the best westerns. This is one of the best movies (and to believe it needed massive editing after initial screenings!). The acting is superb. Mr. Fox's relatively recent review mentions what I believe will hold up the most in generations to come, the film's time-tested values and viewpoints, especially Shane talking to Arthur's character about how "a gun is a tool ... no better and no worse than any other tool ... a gun is as good or as bad as the man using it."

shane

This is not a put down. I agree Shane is one of the greatest westerns ever filmed. Others here have said it all, great sets, story, locations Jackson Hole Wyoming, the only serious flaw , I think, was Alan Ladd. Not his fault. He did a fine job, but I guess I was raised on cowboys, bigger than life. He was a great actor, especially in 1940s detective movies. I just cant get used to him. From his Climbing on and off of his horse, look how short the sturrips are set, and his 45 Colt pistol looks like a cannon. In fact his outfit, buckskins with silver conchos looks ill fitting and right out of a B. Western from the 1930s. Jack Palance, looks about nine feet tall, but when he arrives on scene, its like watching a Daffy Duck cartoon, as he rides into town on a tiny horse, with his long legs almost dragging the ground. Looks like hes riding a Shetland pony. I think Jack Palance should have received an Oscar, but in those days you didn't get an Oscar for being Evil. As I said Im an Alan Ladd fan, but this film and the Iron Mistress were totally miscast. James Bowie was six feet, six inches tall with wavy dark hair. I think Robert Mitchum, Gary Cooper or John Wayne would have been a better choice as Shane. Still a great film.

response to suzanne cavendish

Thanks for the plug, Suzy! My hitherto obscure TCM review, buried on page two, will now be perused by many more viewers. 'preciate it.

"Shane" gives me chill-bumps!

It was a stroke of good luck! I decided to check the TCM on-line schedule for 7/26/2016. In the niche for the 8:00 p.m hour the title leaped off the screen. "Shane" was to be presented. All at once, chill-bumps began to rise on my arms, my neck and on my head. Here it was: the movie that I rate as one of the three greatest westerns ever filmed, if not the greatest of them all. To me, Alan Ladd has always ranked as one of the finest actors Hollywood ever produced. It is shameful that the film community ignored Ladd when it came time to pass our the "Oscar" for best actor in a dramatic role. His acting in this movie was at least as outstanding as the screen play, as outstanding as the direction, the photography, and the excellent supporting cast. All these elements came together splendidly to produce such a great motion picture. In the case of "Shane", despite the empty headed decision to ignore Alan Ladd at the academy awards, Hollywood can truthfully say "We still know how to make 'em".

Shane

Susanne Cavendish

5/28/16

I just read K Sellers' ridiculous review and I bid no one to listen to that idiot!

Shane

Susanne Cavendish

5/28/16

Simply, the best movie of its genre. There are others, just as good, none better. I am struck by how young the two stars of this movie were, when they died, Ladd, 51 and deWilde, just 30. Van Heflin and Arthur were wonderful as parents and marriage partners each, seemingly a part of something which was subject to the call of something, missing in their lives; each knowing, without a way out. In some ways it seemed that Starrett [Heflin] wanted to go to town to free his wife from him, even as he tried to make himself believe he was freeing the families in the valley, from Ryker. Another one of those glorious movies where people are trapped and no one escapes. A wonderful take on life. I love this movie!

Relevant: Enforcing Moral Law?

"Shane" is prescient. One of the most respected Westerns beautifully teaches time-tested lessons relevant for human choices now. In 1880s America pioneers went west without law enforcement. Legendary film director George Stevens (Gunga Din, Talk of the Town, I Remember Mama, Giant, The Greatest Story Ever Told, Shane) and his star, Alan Ladd (The Glass Key, The Proud Rebel, This Gun For Hire, Whispering Smith) serves as the exemplary icon, a quiet heroic knight with his equalizer. Weary wild westerner, savvy Shane teaches, "A gun is a tool, Marian." As a representative of peaceful homesteaders, she navely burbs back the cliche, "The world would be a better place with no guns even yours Shane." She fails to understand; a gun is an equalizer, especially against lawless, violent bullies. (This is relevant to today's expanding lawlessness.) "Shane," the film, is about the absence of law, and how to enforce moral law vs. violent gang's claim to territory, using terrorizing force. The upshot in this film's final act, Shane defends himself with his equalizer against 3, terrorizing bullies: Outdrawing the evil, cold-blooded, hired killer, plus 2 backshooters, the ruthlessly rampaging, ranching brothers that paid the killer, to tyrannize peaceful settlers. So the eye-witness, young homesteader Joey, iconically representing the peace-seeking community, draws the clear conclusion about their noble defender, "Shane, we want you." Critics respect this. New York Times: "Shane containsthe beauty and grandeur of the mountains and plains, drenched by the brilliant Western sunshine... It containsthe bitterness and passion of the feudsbetween the new homesteaders and the cattlemen... It containsthe savageryofkillers" Despite today's Political Correctness, "Shane" celebrates a congregation's complete reciting of The Lord's Prayer, American Independence Day and marriage. Thanks for time-tested, advances in civilization, including WATCH TCM.

Best Western Ever

An outstanding presentation filmed in one of the most serenely beautiful places in America. My hat's off to Alan Ladd for his academy award acting level. Guess who makes a brief but remarkable appearance?

Fond memories

For many of us, TCM could easily stand for Turner Classic Memories. One Saturday afternoon when I was a young kid my dad took my brother and me to the neighborhood theater for a double feature. Shane and Stalag 17 back to back. It doesn't get any better than that. Dad may have been worried about us sitting still for so long, but we were mesmerized. Since then I've come to appreciate Jack Schaefer for all his stories, and the movie version of Shane not only because it takes me back but also for it's true cinematic glory. Monte Walsh is another great Schaefer screen adaptation. Both these films are a feast for classic movie fans.

Woddy Allen and shane

woody said something like this ' Shane is the most perfect film ever made in America. 'Good and evilLove for two menA woman who can't pretendA young boy's life changing experience Two worlds colliding A killer leaving his last chance for happiness behind. Another killer who never should have said "prove it."great American westerns. But.....Shane is the greatest of them all, and never-never can be topped.

The best

By far the best western ever made Ladd should at least been in the running for best actor

Shane

"Shane" is that picturesque western amid the Grand Teton mountains with good guys and bad guys everywhere and those who want to homestead. Alan Ladd as Shane has a history of a great gunfighter but only does it when he has to. Jack Palance as a menacing killer-for-hire to scare off the homesteaders is what Shane is up against. The final showdown is a classic standoff with good vs.bad involved as the good guy has to go to great lengths to win out. This myth of the Old West was somewhat copied in Clint Eastwood's "Pale Rider" where a lone gunman comes to the aid of the good settlers.

The Best Western ever made

Shane, in my opinion, is simply the best American Western Movie ever made. There is so much going on in this film, both on screen and under the surface. Along with the great acting (Ladd's finest role) is the incredible cinematography on display which captures the Grand Teton Mountains of Wyoming looming over just about every scene. The final confrontation between Ladd and a young, hissing, Jack Palance is simply riveting. Shane is a masterpiece in ever sense of the word.

shane

Like "High Noon," it's the western you take your western hating wife or girlfriend to see, in the hope that maybe she'll be inspired to go with you to see "The Searchers" or "The Wild Bunch," a hope that is invariably dashed. Give it a C.

Shane about 75 times

I ve seen this movie many times since I was about 7 yrs old. Starting in my grandfathers movie theatre. I even watched it while living in Europe for some years. Still entertaining. Great flick.

Shane

One of the most beautifully-shot and iconic Westerns of the genre. Ladd deserved a Best Actor Oscar nomination as the buckskin-clad hero, who offers to help Heflin's ranching community from a ruthless cattleman. De Wilde and Palance garnered Oscar nominations for their supporting performances; Arthur's final film. Won an Oscar for it's colour photography, the characters are compelling and their presentations are what makes the story great. Unforgettable, complex and entertaining. I give it a 5/5.

What's up with the film?

Watched Shane last night, and loved the movie but it seemed very dark (as if the brightness was turned way down). Then immediately after the movie TCM showed a brief clip of the final scene in which Shane rides off into the horizon. In the movie it was virtually impossible to see Alan Ladd on his horse. In the brief clip it looked like a restored film. The picture was bright, the images were very strong. It certainly demonstrated that the film I had just seen was certainly not the best print available. So what's up? I thought TCM usually shows the restored version. Loved the movie, just wish it was the better print.

shane

a beautiful film and not just for the scenery.i dont think every film needs to be analyzed to death in order to prove ones point.but it seems to me this movie simply tells a story proving that people remain true to their character and life is a balance of joy and regret.i rate this movie as good as any other western ever made with the exception of Stagecoach which has no peer.

WHERE IS THE ORIGINAL LENGTH SHANE

The best western ever made. I have the 118 min. version But would give my right arm to have the original length shane.I remember the original from 1953 at a drive in in Maine

Shane

I agree with every word of Mike Bolgers review of Shane, pity he referred to Jean Peters rather than Jean Arthur, as Marian! however, I first saw this film at the age of 16, some 60 years ago, it has remained my favourite film of all time, and Alan Ladd my favourite actor, I never fail to see it when on TV, and also have the VHS/DVD/BR versions of it.Sadly Alan Ladd (I think), was not well advised in his choices of film after Shane, it was a hard act to follow, but his wife Sue Carol had rather too much influence, he needed much more professional advice on what to choose, some of his later films were OK, The Iron Mistress, for instance, but the rest failed to make the best of him, he was best in films like Whispering Smith for instance, pre Shane of course.I could not believe that Gregory Peck was considered for the role of Shane, which he turned down, and that Alan Ladd was third choice, just goes to show that sometimes first choice is not always best!

Shane

One of the top westerns of all time. The last scene of the boy calling Shane is memorable. Play it again TCM!

Shane

J. Larry Pommerening

8/17/13

I was approx 11 years old when dad took my mother, brother and I to see "Shane" at a drive-in theater no less. The impact of the movie on me was significant and poignant. I confess when Shane rode off at the end with Joey running after him shouting "Shane, Shane, come back Shane" - I cried like a baby.

My first and favourite Western movie

My late father was a great fan of western movies and started taking his first born son to see a new example each Saturday at the local Gaumont cinema from the age of three. And so my first memory of film is watching George Stevens' 'Shane' in 1953. I have rewatched it countless times since and read Jack Schaefer's novel even more times than I can remember. And now it is to be available on Blu-Ray from June 4th 2013. I can hardly wait...

The Western at its best

Jack Schaeffer's simple tale is elevated by a brilliant cast and stellar cinematography into the greatest western film ever made. The visuals of the Wyoming locales spring to life in vast and colorful beauty to frame a simple tale of homesteaders being forced out by a grisled rancher who escalates his efforts when the mysterious title drifter enters the story. Shane is a soft-spoken man whose quiet gentility belies a violent past in conflicts such as that he sees advancing toward his new-found friends, Joe and Marian Starrett, and their fellow newcomers whose homesteads have sprung up amid the growing ranch of cattleman Rufus Ryker. The world-weary Shane has also become the idol of young Joey Starrett who is awestruck by the newcomer. The uneasy peace dissolves rapidly as Ryker realizes that Joe Starrett's gritty resolve has grown immeasurably with Shane's arrival, and that other farmers may steel themselves against his attempts at intimidation. The conflict explodes when Ryker hires the deadly Jack Wilson, a notorious hired gunman, to send the homesteaders packing or risk being slaughtered. The fate of all will ultimately fall to Shane, whose desire to escape his bloody past weighs heavily against his loyalty to his endangered friends and community. The dramatic resolution is an iconic ending to this rousing tale of the expanding west.Unlike the stagey, melodramatic "High Noon", "Shane is less a tale of Good vs. Evil than it is a human conflict in the absence of law or civilization. Alan Ladd infuses the title character with depth and fullness that was rarely seen in Old West heroes before and after. Van Heflin's Starrett is bold and earnest in his defiance of all that would endanger his family's future while Jean Peters' Marian is warm and gentle to the point of stirring the gallant Shane's fascination and determination to safeguard her from harm or hurt.George Stevens' masterpiece still stands as the definitive story of Old West conflict.

Shane, Blu Ray

Shane is the greatest western ever made. I have viewed this film at least 100 times and each time i watch it I see something that I missed before. I first saw Shane in 1053 when it was in the movies, when the VHS came out i bought it. When the DVD came out I bought it and now im waiting for the Blu ray to come out. Blu ray makes all older movies look so much better. I wish they would make all older movies in Blu ray or at least all the Academy Award winning movies in Blu ray......PLEASE SOMEONE THAT CAN DO SOMETHING ABOUT THIS, DO IT. Thank you, John

An appreciation of Shane

Shane was the first film I remember seeing.In the summer of 1953,at 6 years of age,I was taken by my mother to see it at the West End theatre in Birmingham.In those days of continuous performances you could walk in at any time during the film and then stay for the next performance to "see the bit you missed". On this occasion we walked in as the film was nearing it's climax. The first thing I saw when I looked at the screen was Brandon De Wilde running towards the camera chasing after Alan Ladd who was heading for the showdown with Jack Palance.I have never forgot that moment and Shane has remained one of my favourite films ever since.I have just seen it again on TV. It still brings a lump to my throat.Interesting to note the use of camera angles by George Stevens in the final shootout scene. Diminutive Alan Ladd fills the screen from head to toe whist Jack Palance, well over 6 feetin height, is filmed in longshot, making him appear small and insignificant by comparison.

Shane is my Hero

"Shane" is one of the best all time Westerns ever made. The characters and the moral play between them is what Westerns are all about. Children should grow up watching this movie.

dodgeram

I think Shane is one of the top ten western films of all times, and I was wondering when it will be showed again,

Shane a licious

I love westerns.My grandfather,Benjamin H.Kline filmed over 200 of them as a D.P.I sorely wished he had worked on Shane,because for my money,Shane is the best cowboy movie ever made.Cowboy movies are slightly different than the Great American Western,such as the masterpieces John Ford made,like Stagecoach.. George Stevens drew all of the components needed to go into this classic "Cowboy Film Noir'Great script,perfect casting,and for this here sod buster,the best,and baddest bar room brawl ever put on film.You can't help but love Alan Ladd in the lead role,as Shane,and Jack Palances chilling,yet masterful cowboy bad ass,as Jack Wilson.Jack Palance invented the ultimate cowboy bad ass. George Stevens perfectly blends the conflict between good and evil,and brings out the emotional conflict Shane struggles with as gunfighter turned good,and in the end as Shane rides off into the sunset,he takes with him the part of all of us that struggle with right and wrong,good and evil,and Stevens allows his audience to choose which part of Shane,the audience rides off with,thus being,.conflict resolved!I love this film.Shane.......come back Shane.Shane.......Shane......come back Shane.

Shane

Shane is one of the best westerns ever filmed. Jack Palance is menacing and although he didn't get a credit I believe I heard the voice of Clayton Moore of Lone Ranger fame. The exchange of drinks between Alan Ladd and Ben Johnson is worth waiting for and the plot predictable but at least plausible.

A cherished work of art.

Beloved is perhaps the best word to describe our feelings toward Shane and it's creators. It's up there with Disney's finest!

Moving And Poignant

"Shane" is one of the great classic Westerns that tells a touching story with a well-written script, a fine cast and fantastic cinematography. While it is a story of homesteaders fighting to keep their land, to me the main focus is on the relationship between the mysterious ex-gunfighter Shane and young Joey Starrett, who adores and idolizes him. The final scene where Joey calls after Shane to come back when he rides away is one of the most poignant endings in film history.

I love The Classics!

Tania Avelar-Albanez

9/13/08

Dear TCM....I would like to congratulate you for the great work you do in entertaining the world film by film. I love film, but their are specific films that just capture your heart. Images that stay in your memory time after time. Thank you, and continue with your excellent programming.

one of the top ten westerns ever made

Some of the dialog is a bit dated but wonderful photography. Realistic people, towns and farms.Jean Arthur is beautiful even in her 50'sand George Stevens direction was the best.This was the first western I remember that was such a change from the usual B westerns that we all remember.

Shane is the consummate film

It's got story--well told.It's got fantastic performances from great actors.But two things makes this a western beyond westerns, and beyond most movies.The fantastic Jackson Hole scenery in nearly every shot.Loyal Griggs composed the valley, the mountains, the land564scape exquistely beautifully--and earned a well-deserved Oscar.I can't think of a movie that so captured the essence of its location so well other than John Ford with Monument Valley, Utah.The location is a much a character in the story as Shane and Joe Starret.The spot-on performance of Brandon de Wilde moves the film to another level. He is so perfectly cast and his performance is endearing without cloying sop. He seems a child, but not immature. Figuring out what's going on without undue smartness or "wise beyond his years." He's perfect.Fab musical score, too.George Stevens loved this film and rightly so. It's an expression of cinematic art while still a great entertainment vehicle

Realistic effects, great film!

Speak softly and carry a BIG gun! That's Shane! Soft-spoken and a true gentleman, but "don't" get him angry! Such a classic film. In fact, toward the finale, in the Bar scene especially (gun fight), the sound effects are probably the most realistic I have ever heard in a movie. You can almost 'feel' the recoil of Shane's "six-shooter" as he fires. What else can you say about such a classic film....It's GREAT!!

shane

At last tcm gets to show one of the best westerns ever made as only tcm could on tv. just great cant wait for the debute thanks.
*We protect your personal infortmation and will not provide it to anyone without your consent. For a complete explanation, please refer to TCM's Privacy Policy. By submitting your contribution, you agree to TCM's Terms of Use.