DVDs from TCM Shop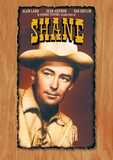 Shane A mysterious drifter helps... MORE&nbsp> $8.95 Regularly $12.98 Buy Now blu-ray
NOTES
DVDs from TCM Shop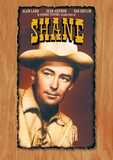 Shane A mysterious drifter helps... MORE&nbsp> $8.95
Regularly $12.98 buy now
According to a Hollywood Reporter news item, when Paramount acquired Jack Schaefer's novel Shane in November 1949, both Alan Ladd and Ray Milland were under consideration for the title role. William Holden was originally cast in the role of "Joe Starrett" and was not replaced by Van Heflin until just before the start of production. Modern sources claim that director George Stevens wanted Holden to co-star with Montgomery Clift, who had starred in Stevens' 1951 film, A Place in the Sun , but that Clift was not interested. Modern sources also state that Stevens' son George, Jr. read the Schaefer novel one summer in college and suggested his father adapt it. According to a May 1966 Films and Filming article, director Howard Hawks then recommended that Stevens hire Pulitzer Prize-winning author A. B. Guthrie, on whose book Hawks's film The Big Sky was based, to write the script for Shane, even though Guthrie had never before written a screenplay.
Shane was Stevens' first Western since his 1935 RKO release Annie Oakley (see AFI Catalog of Feature Films, 1931-40); it was also his last. Artist Joe DeYoung (DeYong in the onscreen credits) worked with Stevens to create authentic costumes and dcor, according to news items. Modern sources note that Stevens and DeYoung, who could not speak, traveled the West together and did months of research to achieve the most realistic look possible. Stevens also studied the photographs and drawings of William Henry Jackson and the paintings of Charles Russell, according to modern sources. As noted by news items, location shooting took place near Jackson Hole, WY, against a backdrop of the Grand Teton Mountains. An entire Western street was built, and according to modern sources, Stevens constructed the cemetery and town sets next to each other, so that they could be viewed in the same frame, if required. Specific location sites included Menor's Ferry on the Snake River, according to a September 1951 New York Times item.
Shane marked Jean Arthur's first screen appearance since the 1948 Paramount release A Foreign Affair (see AFI Catalog of Feature Films, 1941-50) and was the final film of her career. In 1956, she starred in a short-lived television series, then appeared occasionally in stage roles. Although onscreen credits "introduce" child actor Brandon de Wilde, and Shane was de Wilde's first screen assignment, his first released film was A Member of the Wedding . According to an August 1951 Hollywood Reporter news item, Alan Ladd's three children, David, Alana and Alan, Jr., made their screen debuts in the picture, but their appearance in the final film has not been confirmed. Modern sources note that Stevens, Jr. worked as a company clerk on the production.
Modern sources add the following information about the production: To enhance the realism of the picture, Stevens opted to shoot in all kinds of weather and lighting conditions. Secretary of the Interior Oscar Chapman, as well as the Supervisor of Grand Teton National Park and members of the Rockefeller family, toured the film's set. Afterward, the Rockefeller group requested that the sets be moved to the Rockefellers' Ferry Museum on the Snake River. Stevens carefully choreographed the fistfight scene, again striving for realism. For the final gunfight scene, Stevens attached leather belts to the actors who were to be "shot." Every time the prop gun was fired, a crew member yanked the appropriate victim's belt, causing him to jerk backward, as though hit by a bullet. According to the New York Times obituary for stuntman Russell M. Saunders, Saunders acted as Ladd's stunt double in the film.
According to a April 29, 1953 Variety item, the film, which was shot in 1951, prior to the advent of 3-D, widescreen and stereo processes, was roadshown for several months so that it could be given the new "widened screen treatment." The film, which according to the Films and Filming article cost $3 million to make, was projected in a 1.66:1 aspect ratio for its Radio City Music Hall screenings in New York and its Grauman's Chinese run in Los Angeles. According to the Variety review, the audience for the Los Angeles trade preview was "perched on makeshift seating" to accommodate the "experimental widescreen" projection, and that "the widescreen projection did contribute...to a sense of the bigness." The New York Times reviewer commented that the widescreen projection "slightly favors the width," but that "the difference is barely apparent, except that some scenes appear trimmed at the bottom and the top." The Los Angeles run also featured stereo sound, according to a May 30, 1953 Los Angeles Times item. In modern interviews, filmmaker Warren Beatty claimed that he consulted with Stevens about Shane and attempted to imitate the film's gunfight sound effects for a climactic gun sequence in his 1967 film Bonnie and Clyde (see AFI Catalog of Feature of Films, 1961-70).
Shane was uniformally lauded upon its release and is considered by many critics to be one of the best Western films ever made. The Los Angeles Examiner reviewer ranked it "among the all-time great films," while the Motion Picture Herald Prod Digest reviewer labelled it "an achievement in the cinematic art...the like of which showmen have rarely seen." Shane received Academy Award nominations in the following categories: Best Picture; Best Director; Best Writing (Screenplay); and Best Supporting Actor (Jack Palance and de Wilde). The film won an Academy Award in the Best Cinematography (Color) category, and Stevens received the 1953 Irving J. Thalberg Memorial Award, for "high quality of production for the current award year and preceding years." Shane was also voted one of the ten best films of 1953 by the National Board of Review and Film Daily. Although Ladd was not nominated for an Oscar, his performance in Shane is considered one of his best and garnered him a Photoplay Gold Medallion award.
Ladd and Van Heflin starred in a Lux Radio Theatre version of the story, broadcast on February 22, 1955. In 1959, President Dwight D. Eisenhower requested, and received, the only 16mm print of the film to show to Soviet Premier Nikita Khrushchev at Camp David, MD, according to a Hollywood Reporter news item. The film was reissued in 1966, and in 1981, was one of five pictures selected to tour China after a thirty-year drought of American films, according to a news item. In 1998, Shane was voted number sixty-nine on AFI's "100 Greatest Films" list and was included on the Library of Congress' National Preservation list.
In 1968, in anticipation of Shane's first broadcast on television, Stevens cautioned the ABC network about showing the film with commercial interruptions, noting that he was still appealing a lower court loss against the NBC network for its broadcast of his 1951 film A Place in the Sun. Although it is not known whether ABC heeded Stevens' warnings, the director eventually lost the appeal. For more information about Stevens' lawsuit, for A Place in the Sun. Shane, a television series based on Schaefer's story, starring David Carradine and Jill Ireland, was broadcast on the ABC network between 10 September and 31 December 1966.